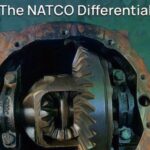 The NATCO Differential, Part I
September 8, 2023
Truck Driver Appreciation 2023
The Right Stuff
"Nearly every aspect of daily life is made possible because a truck driver delivered the goods and resources people need."
So says the site that promotes and honors National Truck Driver Appreciation Week. As we end this year's week of celebrating them, we tip our collective baseball caps and hard hats to the men and women who literally drive the flow of business throughout the country.
They continue to roll through incredible upheavals, especially in recent years: The perpetual driver shortage situations. Adapting and adjusting to new regulations and new technology (i.e., HOS and ELD). A pandemic. A bottleneck that put their work and their livelihoods between the ocean and a hard place.
Oh, and Yellow Corporation went from being in the red to feeling blue; that's creating a ripple affect through the industry.
Our industry is a curious mix: rigid enough to stand strong in the face of turmoil, and flexible enough to go with the ups and downs that is the commercial transportation roller coaster.
As American Trucking Associations breaks down our industry statistics:
Trucks moved 11.46 billion tons of freight – up from 10.93 billion tons the previous year.
The industry collected 80.7% of the nation's freight bill – generating $940.8 billion.
Trucking employed 8.4 million people in industry-related jobs, up 405,000 from the previous year, including 3.54 million professional truck drivers.
Women made up 8.1% of the nation's drivers – an all-time high and the seventh straight annual increase.
Trends detailed the racial/ethnic background of drivers, with 18.3% of drivers identifying as Black, 4% as Asian and 23.3% as Hispanic or Latino.
Trucking remains a small business industry: 95.8% of fleets operate ten or fewer trucks, and 99.7% operate 100 or fewer.
Trucks moved 61.9% of the value of surface trade between the U.S. and Canada and 83.5% of cross-border trade with Mexico, for a total of $947.92 billion worth of goods.
They get our stuff from Point A to Point B. They are often under-appreciated by the public. Their work is essential to our economy and our lives.
Thank you, truck drivers.