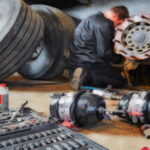 Trucking Expense
June 29, 2023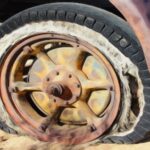 Tired Tires
July 14, 2023
Challenges
In certain parts of Brooklyn, you get a bird's-eye view of the BQE, the Brooklyn-Queens Expressway, this long, meandering  (and not so pretty but kind of efficient) ribbon that connects the boroughs.
Much of the time, that view shows the traffic headed north, toward interchanges that feed into Manhattan and beyond. And traffic seems to be, well, not moving. As we say, the BQE looks like a parking lot.
"In 2022 truck parking was once again the single greatest issue facing the trucking industry according to drivers. While much of the frustration surrounding truck parking concerns the lack of truck parking capacity, the short-term response for managing existing capacity is the use of real-time parking information systems and truck parking reservation systems."
That comes from ATRI's Analysis of the Operational Costs of Trucking, their report on the expense-side state of the industry.
An interesting angle here is that lack of truck parking is the overall frustration, ATRI's research shows "a disconnect between truck parking reservation fees and what carriers and drivers are willing to pay."
Maybe supply-and-demand will even out that discrepancy. The idea of a reservation system — having an open spot waiting for you after a long day or night of driving — is solid. You drive all those hours and then spend too much time looking for a place to park your 18 wheels. (How many times have we driven our four-wheeled vehicles 20 miles to, say, a shopping mall, then circled the parking lot for 10 minutes, hoping a spot will open up close to the entrance doors?) How great it is to have an open spot. It's like a mint placed on your pillow at night.
With that in mind, we're always happy to spot yet another truck stop or town or county announcing another, say, 30 parking spots that are or will be available for commercial trucking vehicles.
It's not just the matching of truck type to freight requirements. Or securing lead cars for the oversize loads. Or arranging the offload. It's the whole picture — focused on driver's well-being — that is the stronger measure of a successful movement.