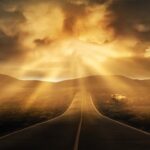 Fuel in Transition
August 4, 2023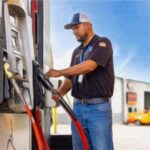 At The Pump
August 17, 2023
Arching Toward Green
We're in the midst of "energy transition."
Broadly, that means the global energy interests are adjusting to and propelling a switch from fossil fuels to renewable energy.
Would that we could pull the plug on petroleum production one day and the next day turn on the hydrogen or battery or windmill or solar panels, and call it a century.
It's never that easy. For one thing, the technology to get us there is still in development. As we explored it in last week's blog, a number of factors ⏤ including size and strength of the competition, viability, and marketing ⏤ all combine to temper the pace.
Enter the energy transition. One example is a switch from coal, which burns dirtier, to renewable energy, using natural gas as a "bridge" before fully transitioning.
In our industry, we're seeing similar bridge fuel entering the markets and tanks and engines of commercial truck fleets. Amazon is a handy example.
In September 2022, Forbes reported, "Amazon, with a massive fleet of tens of thousands of delivery vehicles, will begin using a new, renewable form of diesel fuel for trucks in Southern California. The retail giant says this "electrofuel" diesel results in significantly less carbon pollution than the petroleum-based version."
Amazon is one of 426 companies around the world that have signed The Climate Pledge, with a commitment to reach net-zero carbon emissions by 2040.
In addition to that "electrofuel," Amazon has put compressed natural gas (CNG) trucks on the roads. The same approach: the company's CNG vehicles are designed to "provide an interim emissions-reduction technology while EV and hydrogen fuel cell trucks continue to develop."
As history has shown time and again, we tend to transition until we get a sort of balance. And then we begin to transition again.